This is what i see when I am walking back to my dorm after class
Autumn for me is one of my favorite seasons because Autumns on the East Coast mean comfortable weather and the easy attitude of people, but also due to the fact that all of our favorite comfy sweaters and our supple leathers can be brought out to keep us stylish and warm. That being said let's talk about five pieces that I love for this fall.
Hello my fashion lovelies, Fall has definitely arrived, full force at that. The leaves are turning from lush greens to crisp reds and yellows. The sun retires earlier each day and the wind hits you with just a little more force than yesterday.
1. The Oversized Sweater
This piece is a must have because it is so easy and completely versatile. It can be worn with anything. Wear it with skinnies, a bowler hat, and short leather combat boots or wear it over a crisp button-up and wear it with leather shorts and suede leather wedges.
2. The Leather Jacket
This is a piece that everyone should have. It goes from day to night without any effort. Select leathers in slim fits, something that skims the outline of your silhouette to keep the look streamlined and modern. We don't want to look like a vampire hunter from the 1990s. Pair your leather jacket with mustard color chinos and leopard flats for day or graphic black graphic skinnies and a sheer white blouse for night.
3. The Beanie
Beanies are something that definitely had to grow on me. In the past, beanies were identified with boys who skateboarded and rebelled against their parents. Now, the possibilities are endless! These cute knit hats come in a wide variety of colors, shapes and sizes. For me a beanie with spikes or one with colorful stripes is the way to go! Pair a beanie with a mullet skirt, crop top, and denim jacket for an unexpected twist. Your outfit and ears will be thankful.
4. The Army Jacket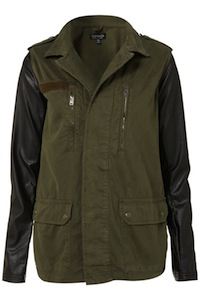 This is for those who don't love the idea of the leather jacket. Army inspired pieces are back with a bang (as if they are ever really out of style!) and I'm loving it. The army jacket is great for strolling through the campus while checking out the scenery or you can even layer of a maxi dress for a bolder more refined look.
5. The Oxblood Pant
This is one of Autumn's latest trend and I am too excited for it. Oxblood is one of those gorgeous luxe colors that goes great with anything in your anything in your closet. Wear velvet oxblood jeans with a baroque blouse to keep the look sophisticated or wear with a denim button-up with a studded color. You can't go wrong.