Last night I was doing my routine of browsing through the various online street fashion stores that I am obsessed with. The list consists of TOPMAN, ASOS, TOPSHOP, Romwe, Zara, Urban Outfitters and the Deepstyle brand at Yesstyle. When I thought about it, I didn't really need to be shopping for clothes because I recently dropped some cash on a denim jacket, a circle scarf and a pair of leopard print skinnies at Urban and I really have everything that I want(and can afford!) at the moment.
However, while looking through my Tumblr (also called Blondism) I happened across an awesome picture of a runway model carrying a white parasol fashioned in the shape of a white flower. The blogger of the picture was Solestruckmens! I love Solestruck shoes. Solestruck is a shoe retailer located in Oregon that carries edgy yet stylish options for the man and woman who aren't afraid to make a bold statement in the sea of normality. You can expect to see brands like Jeffrey Campbell (and its male counterpart The Damned), Ash, Jeremy Scott for Adidas, KTZ and many more. Since its been months since my last shoe purchase (a pair of plaid TOMS from Neiman Marcus in San Francisco) I decided to indulge myself and select a few pairs for my Christmas wishlist. Take a look below at what I picked: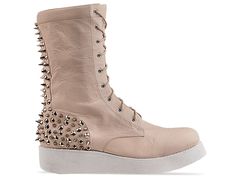 The Damned Reznor Spike $199.95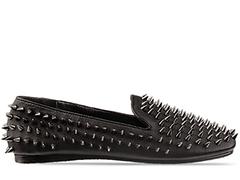 Unif Hellraiser $164.95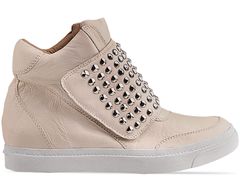 The Damned Prism Stud $229.95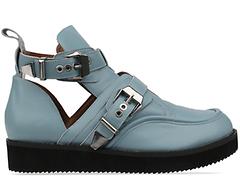 The Damned Colt Man $204.95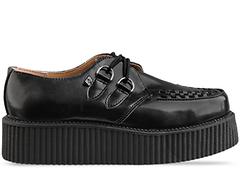 T.U.K. D Ring Mens $69.95
I'm totally obsessed with my choices. Each shoe makes a bold and original statement and right now that's what I want. The Powder Blue cut-out boot is by far my favorite. I've been lusting after them ever since I saw it on LookBook.nu. It is such a bold design and it seems as though the Jeffrey Campbell design team took some inspiration from Balenciaga's Cut-out boot.
The shoes from Solestruck are great statement shoes that can carry an outfit without much effort.
When you guys have some free time take a look though Solestruck and check it out. I guarantee that its worth your time.
Tell me what you've been lusting for down below.